Puzzle Sheets - Silhouette
Our silhouette sheets are perfect for the younger audience and help with concentration and logic as they try and match the picture with its silhouette.
Themed Silhouette content
All Silhouette
Our latest Silhouette content is shown below, let us know if there is something you can't find.
Farm Animals Silhouette
Monsters Silhouette
Zoo Silhouette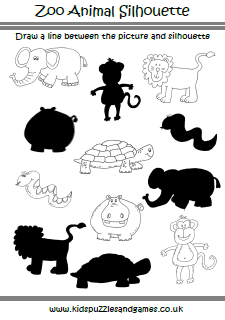 A great sheet for younger children. Match the animal to its silhouette by drawing a line between them. This is great for early pencil control and helps improve a childs observational skills.