Games - Beetle Drive
A beetle drive is a fun and cheap way to raise funds and also a great game that you could play with a small group of children or even the whole class. All you need to get started is a dice and to print off our great beetle drive sheet. All the rules for the game are contained on the sheet.
Themed Beetle Drive content
All Beetle Drive
Our latest Beetle Drive content is shown below, let us know if there is something you can't find.
Christmas Beetle Drive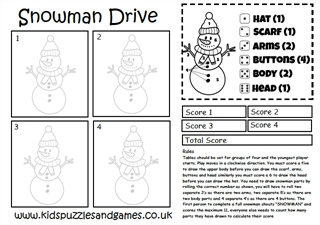 Our snowman drive is a special festive version of our beetle drive game. Perfect to play as a class during the run up to Christmas. It also helps with counting skills when children add up their scores.
Minibeasts Beetle Drive