Games - Dice Games
These are games that you have to roll a dice to build up a picture. They are great fun and can be played in small groups.
All Dice Games
Our latest Dice Games content is shown below, let us know if there is something you can't find.
Christmas Dice Games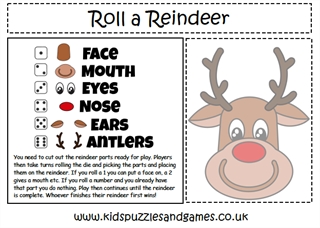 Our roll a reindeer game is a fun dice game for younger children. Cut out the reindeers on the second sheet ready for play and then follow the rules to see who can build their reindeer first. This is best played in small groups. Everything you need apart from the dice is included by clicking the image or link.