Roll a Reindeer Game
Our roll a reindeer game is a fun dice game for younger children. Cut out the reindeers on the second sheet ready for play and then follow the rules to see who can build their reindeer first. This is best played in small groups. Everything you need apart from the dice is included by clicking the image or link.
Don't miss the rest of our Christmas content.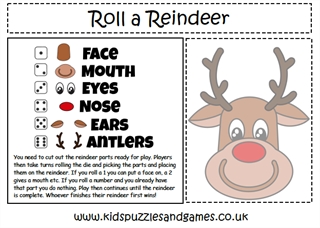 Print Roll a Reindeer Game
Please click on the link or picture above to print off a great quality PDF document.