Kindness Advent Calendar
The run up to Christmas is such a special time and this kindness advent calendar is a great way to make that time extra special. It is a great way to encourage children to be kind this Christmas. Each day a new act of kindness is given for the children to complete. From baking cakes and cookies for family and friends to helping out with chores and being nice to siblings, this calendar is a great alternative to the traditional calendar.
Don't miss the rest of our Advent content.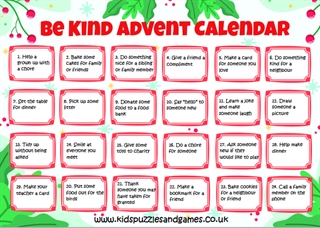 Print Kindness Advent Calendar
Please click on the link or picture above to print off a great quality PDF document.