Happy Hanukkah Detailed Sheet
Celebrate Hanukkah with our detailed Happy Hanukkah sheet. It contains lots of items you associate with Hanukkah including, gelt, a dreidel, a menorah and some sufganiyot. This is a great colouring sheet for children both celebrating and learning about Hanukkah.
Don't miss the rest of our Hanukkah content.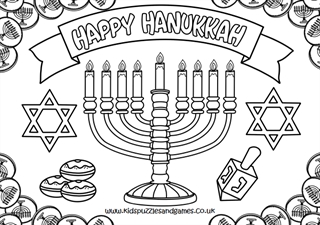 Please click on the link or picture above to print off a great quality PDF document.